Wednesday, April 28, 2021 - 10:00am

to

Thursday, April 29, 2021 - 11:45am
We can help accelerate your sports and esports business...and when you come to our Startup Summit, we can prove it!
About this Event
Stadia is one of the oldest and most successful sports and esports accelerators in the world.
How can we say that? Well, we let our numbers speak for us.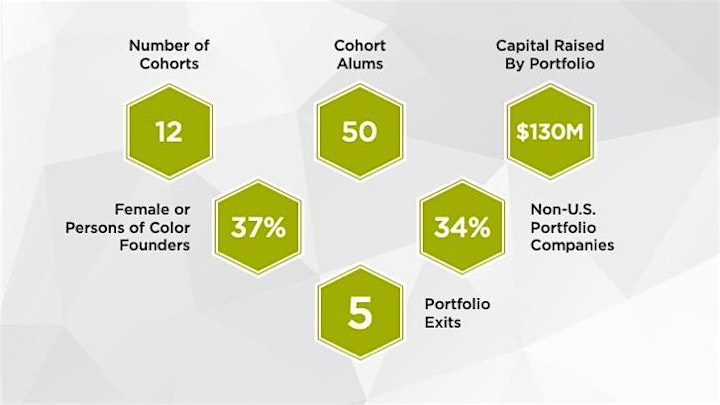 Why is our accelerator unique? We create an ecosystem for sports and esports innovation growth by leveraging our team's core strengths: education, investment, network, and industry expertise.
Those that survive the Stadia program thrive. Our portfolio will tell you that we run an immersive, business development boot camp for serious founders in the sports and esports space. The 52 companies that have come through the program have ranged from no revenue (but had pilot projects/product in market) to having significant revenue (up to $20M).
And even though they may have come for the $100K investment, every founder will tell you that they left with a network of mentors, new advisors and enough new business opportunities to last them a lifetime (which outweighed the investment).
The Stadia Startup Summit is an opportunity to learn from our family…
Listen to the unvarnished truth from:
Stadia cohort alums
Business leaders who serve as volunteer mentors
Partners who bring their expertise to help our cohort founders
Outside investors who have invested in our cohort alums
Potential customers and decision makers at large sports and esports brands
___________________________________________________________________________
// COHORT PANEL //
___________________________________________________________________________
// MENTOR PANEL //

___________________________________________________________________________
// PARTNER SPOTLIGHTS //

___________________________________________________________________________
// INVESTOR PANEL //

___________________________________________________________________________
// CUSTOMER PANEL //

___________________________________________________________________________
For More Information:
Brandon Janosky - bjanosky@stadiaventures.com
Please reply with your RSVP ASAP since seating is limited
THIS IS A PRIVATE EVENT ONLY FOR STARTUPS AND REGISTRATION IS REQUIRED