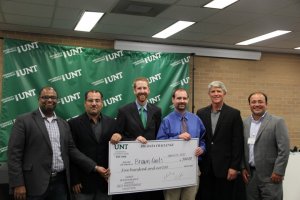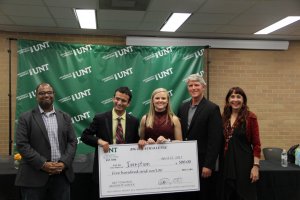 UNT College of Business students represented two of the winning teams at this year's Big Data Challenge. Sponsored by Sabre and DHISCO (two leading technology companies in the travel industry), the annual competition gave students the opportunity to team up and find solutions to industry-related challenges using real-world data sets.
Putting their analytical skills to the test to develop a case study portfolio, Team Inception and Team Browncoats took home a grand total of $2,000, and the winning titles. Ryan Fellers, Mike Pratt and Rhida Joudah (master's students studying business analytics), won the overall prize in the Sabre category of the challenge, while business logistics doctoral student Amit Malhan and business analytics master's student Crystal Janes represented team Inception and first place in the DHISCO category.
"I was enrolled in several decision science classes at UNT and when I heard about this challenge in which we get an opportunity to work with real data and solve real world problems, I jumped onto it," said Malhan. "With the growth of GPU and increasing computational power, big data and machine learning are gaining tremendous popularity."
The availability of data on a mass scale is becoming more and more frequent in today's industries, but the ability and wherewithal to manipulate said data is even more critical.
Malhan compared the use of big data today to the internet in the 80's. "In my humble opinion it will touch each every sector from finance to marketing to logistic; and I think the challenge has enabled me and provided me with a jumpstart into a future hot sector," said Malhan.
In addition to earning the DHISCO award, Team Inception also took home the "Best Overall" Toulouse Graduate School Award. The teammates both agreed, however, that their big win would not have been possible without the help of their mentor and UNT ITDS professor, Dr. Evangelopoulos. Janes described Dr. Evangelopoulos as "inspirational" and Malhan said that not only did his advice help them excel, but the groundwork he provided throughout his classes unknowingly prepared them as well.
Exceling outside of the classroom is a small testament to the strong foundation that the UNT College of Business builds for its students. Congratulations to Teams Inception and Browncats for earning top spots at this year's competition.