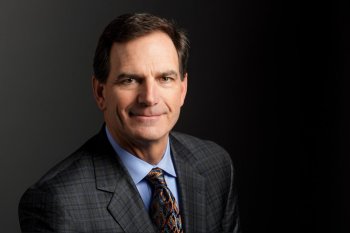 Oshkosh Corporation may have adapted in some ways since its inception in 1917, but there has been one thing that has remained constant—their commitment to integrity and ethics. From the top down, Oshkosh sets the standard through their Global Ethics and Compliance Program, which lives by the motto: "Do the Right Thing" – The Oshkosh Way.
Wilson Jones, 1985 UNT College of Business graduate, serves as the President and CEO of Oshkosh Corporation, ensuring that their commitment to ethics and transparency is instilled at every level. Through the help of their Board of Director's Audit Committee, regular briefings keep the company accountable and effective so their values are upheld.
"A company that does the right thing benefits everyone – our team members, our customers, our suppliers, our investors and our communities," said Jones.
That is why, for three consecutive years (since Jones started as President), Oshkosh has received national recognition for being one of only 135 companies, worldwide, to be named among the Ethisphere Institute's World's Most Ethical Companies.
In putting a strong emphasis on ethics in the workplace, employees are empowered to feel comfortable in reporting feedback to ensure their workplace is operating at the highest standards. Expectedly, research has shown that those on the World's Most Ethical Companies list outperformed the U.S. Large Cap Index by more than 10 percent over five years.
"Wilson's leadership has transformed Oshkosh Corporation into a People First organization focused on engaging, developing and connecting team members," said Katie Hoxtell, global branding and communications marketing manager for Oshkosh. "That focus on People First has earned us quite a bit of recognition."
In addition to being among the most ethical companies, Oshkosh ranked eighth on Barron's first ever "100 Most Sustainable Companies" list, received the "Industry Mover" distinction in the Machinery & Electrical Equipment category from RobecoSAM, earned a Glassdoor Employees' Choice Award for being one of the best places to work in 2018, and was named a Military Friendly Employer by Victory Media.
Jones himself also received the honor of being one of the top CEOs of 2018 – ranking 55th out of the 100 largest companies on Glassdoor. His approval rating of 93%, pulled from anonymous and voluntary reviews from employees, speaks volumes of his leadership and everyday philosophy that everyone in the company matters and makes a difference in the world around them.
Oshkosh's last 100 years have been guided by their core values of Honesty, Accountability, Integrity, Respect, and Citizenship, and their next 100 years will assuredly continue on that same, ethical path.