​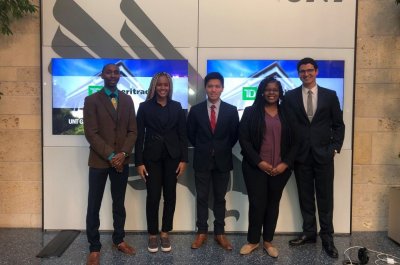 InVEST and the Big "I" Diversity Council announced the University of North Texas as one of the three winning teams in the 2nd Annual College Agency Management Competition. Winners were chosen based on business results of owning and operating a virtual insurance agency.

The competition, hosted by InVEST and the Big "I" Diversity Council, was designed to teach college students the basics of entrepreneurship, insurance agency management, business operations and teamwork through a virtual online competition developed by PriSim War Games.
Deanna Spears (team lead), Ryan Blasavage, Michael Powell, Kidest Legesse and Martin Pham were the team members that took home the winning prize.

During the month-long competition, the students input their agency's business decisions into PriSim's agency management platform taking responsibility for strategy, carrier and customer management, source management, staffing, sales and financial statements.

Professors, insurance agents, a corporate partner and a PriSim ​staff member mentored each team throughout the competition to help them understand real-world issues such as how to read a profit and loss statement, the impacts of staffing, market segmentation and more.

Thanks to funding provided by participating Big "I" Diversity Council company sponsors, the winners will receive a trip to the Big "I" Legislative Conference May 8-10, 2019. The conference will give the students the opportunity to connect with executives from top insurance agencies and companies for possible internships and jobs.

The eight participating schools and corporate sponsors included:
Appalachian State—Boone, NC with Selective Insurance
Howard University — Washington, D.C. with Safeco/Liberty Mutual
Illinois State University – Normal, IL with Risk Management Solutions of America
Indiana State University – Terre Haute, IN with Westfield Group
Ohio State University – Columbus, OH with Nationwide
Temple University – Philadelphia, PA with Church Mutual
University of North Carolina – Charlotte, NC with The Hartford
University of North Texas – Denton, TX with CNA
"Congratulations to all of the teams that participated in the competition," said Bob Rusbuldt, president & CEO of the Independent Insurance Agents & Brokers of America. "I'm sure each student learned something valuable about what it takes to own and operate a small business. We look forward to hosting the top three teams at the Big 'I' Legislative Conference."

Founded in 1970 and based in Alexandria, Virginia, InVEST promotes insurance education to attract individuals to pursue a career in the insurance industry. Each year, the program prepares thousands of students for insurance-related careers with a hands-on curriculum taught in high schools, adult education centers and colleges.

The Big "I" Diversity Council engages and develops a sustainable, diverse independent agency network by partnering with state associations, carriers, and industry affinity groups. The Diversity Council collaborates with other multicultural industry groups, state associations and other Big "I" committees to create an awareness of the opportunities and benefits of embracing diversity.

PriSim Business War Games Inc. works closely with leading organizations to build and deliver customized business simulations. The company assists clients in utilizing these custom tools to develop their employees' business acumen. Industry-specific simulations include insurance carrier, insurance agency and brokerage, insurance branch, mortgage banking, aerospace and defense, dealership, publishing, e-commerce, and manufacturing.

Founded in 1896, the Independent Insurance Agents & Brokers of America (the Big "I") is the nation's oldest and largest national association of independent insurance agents and brokers, representing more than 25,000 agency locations united under the Trusted Choice brand. Trusted Choice independent agents offer consumers all types of insurance—property, casualty, life, health, employee benefit plans and retirement products—from a variety of insurance companies.