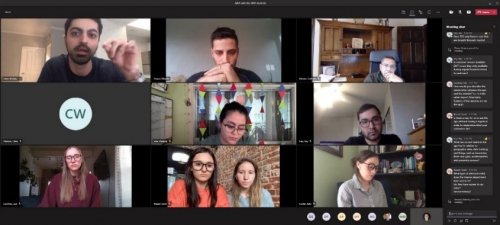 The MBA in Management Cohort at UNT is known for its collaborative experiences that bridge academia and industry through experiential learning. This spring, the program partnered with the TFS Digital Academy and strengthened its model for educational excellence by giving students the unique opportunity to work with senior executives from Toyota Financial Services (TFS)—a subsidiary of the largest automobile manufacturer in the world.

TFS tasked the MBA Cohort with analyzing current operations and presenting new solutions for functioning more efficiently and effectively through a complex and challenging project. Led by Kai Dosenbach and John Clementi of the TFS Digital Academy, and under the direction of faculty members Dr. Audhesh Paswan and Cathy Westurn, students employed real-world data and virtual industry visits to develop practical solutions.

The collaboration between UNT and the TFS Digital Academy was focused on leading industry and customer experience scenarios. The MBA students were asked to do an evaluation and provide TFS their consultation on key questions related to each scenario.

Over the course of several weeks, students delved into Toyota's current business practices to identify opportunities for enhancements —ultimately presenting their findings and recommendations to Toyota executives.

"The students did an amazing job in a very short amount of time. They pulled together a lot of industry research to help formulate their strategic recommendations," said Gordon McGrath, TFS Business Information Officer and executive sponsor of the engagement. "I can't say enough about how impressed I am with the work they have done. We're going to be following up with many of the recommendations we received." Students were judged on their ideas, presentation tactics and timelines—enabling them to develop new skillsets beyond the classroom through a unique learning experience. "We are delighted with the outcome, both the students and executives learned a great deal from this experience." said Mark Dirkson, Talent Manager for the TFS Digital Academy.

This real-life experience of working with a company on real-life challenges is something that the MBA Cohort can take away and apply to their future. The opportunity here is in any work situation, one can evaluate the current business and see that there's always an opportunity to do things better.

Both Toyota and the G. Brint Ryan College of Business look forward to empowering students as industry change agents through future collaborative efforts.