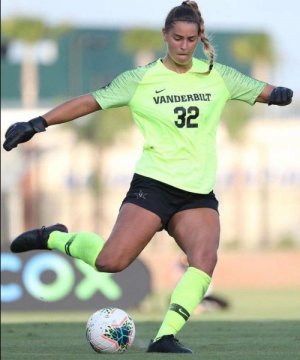 The first woman in history to score points in a Power 5 football game will be joining the G. Brint Ryan College of Business this fall.

Sarah Fuller is transferring to UNT from Vanderbilt, where she not only led the soccer team to a conference tournament championship, but also suited up for kickoff during their conference football game against Missouri.
"Originally, I was going to pursue my MBA in Hospital Admin but then I kicked a football and my world changed a little," said Fuller.

Pursing her MBA in sport entertainment management, Fuller chose a different degree path, because she wanted to make a difference.

"I was pleasantly surprised to see how incredible this program is and Professor Heere has been a great help to me already. I'd love to one day either be a sports agent or work in the NWSL and bring a team to Dallas or Nashville, and I believe this program will help me do just that."

The Mean Green women's soccer team also played a role in Fuller's application to UNT.

"I also chose North Texas because of their success on the soccer field... This women's soccer team has shown time and time again their championship mentality and I'm excited to join in the fight for another ring."

Expected to attend the ESPYs on July 10, Fuller has been an inspiration to women in sports everywhere — and plans on using her UNT degree to help other women get the recognition they deserve in sports.