Podcast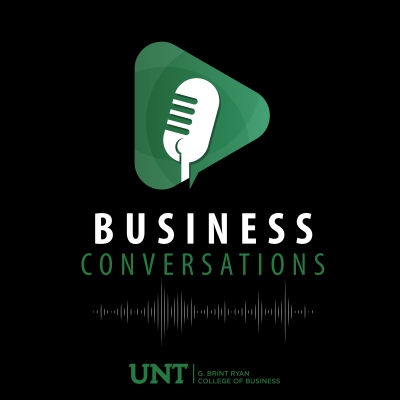 Business Conversations
by The UNT Ryan College of Business
Conversations brought to you by expert faculty of the University of North Texas G. Brint Ryan College of Business.
Episode 1:
UNT Business Conversations: Taxes and COVID-19
Featuring Dr. Peggy Jimenez
Dr. Peggy Jimenez earned her Ph.D. in Accounting and M.S. in Taxation from UNT in 2013 and holds a B.S. in Accounting from Brigham Young University-Hawaii. Before pursuing graduate studies, she worked in the federal tax department of KPMG in Silicon Valley, California. Her work at KPMG included federal and state tax return preparation, calculation of the federal tax accounts for financial statements, and audit of tax accounts on corporate financial statements. Her teaching interests include financial accounting, managerial accounting, and taxation. Her research focuses on social issues that influence tax compliance decisions. Her research has been published in the Journal of Accounting and Public Policy and Advances in Accounting. Dr. Jimenez is a CPA licensed in the state of California. She enjoys traveling, spends most of her spare time with her husband and two young children, and enjoys finding opportunities to use her skills to serve others.
Episode 2:
Cybersecurity in Today's Climate
Featuring Dr. Jose Lineros
Dr. Lineros currently teaches AIS, ERP, IT Audit, and Internal Audit at the University of North Texas. He previously taught MIS and computer science at UTD, TAMU-Commerce and Brookhaven. He holds a PhD in Higher Education: Educational Psychology, a Masters in Telecommunications from the University of Dallas, and a BBA in Accounting from the University of Texas at Arlington. His credentials include a CISA, CPA, CIA, CFE, CRISC, and is a Microsoft Certified Technology Specialist. He has published numerous articles in journals such as Community College Journal of Research and Practice, Learning and Performance Quarterly, the Journal of Social Media in Society, and the Global eLearning Journal. Additionally, he has frequently lectured on blockchain, mobile device security, Wi-Fi architecture vulnerabilities, and their business implications. He has contributed IT Audit expertise on an ERP textbook and is the Director of Academic Relations for ISACA (Information Systems and Control Association). He currently serves on the Boards of the North Texas ISACA and the Fort Worth IIA, as well as being recognized as the DFW IIA Professor of Internal Audit.
Episode 3:
The Sports Industry During a Pandemic
Featuring professors Bob Heere and Matt Walker
Professor Bob Heere and Professor Matt Walker have joined UNT over recent years to develop the sport entertainment management programs at UNT. Both are leading scholars in the field of sport management, and together they have rapidly grown our undergraduate and graduate programs in sport entertainment management, not the least because of their excellent relationships with leading sport organizations like the Dallas Cowboys, the PGA of America, the Dallas Mavericks, the Dallas Stars, the Texas Rangers, and many of the minor league teams in the DFW area. Both are fathers to young children, two boys for Matt, and one girl for Bob, and spend most of their time outside their work with their families.
Episode 4:
CIO Leadership and Transitions
Featuring Dr. Tony Gerth
Dr. Tony Gerth is a clinical professor with the G. Brint Ryan College of Business at the University of North Texas teaching information systems management courses. He is also Principal of ABG Executive Advisors, LLC a CIO leadership coaching and education firm. Previously he taught at the Indiana University Kelley School of Business where he was awarded the MSIS Outstanding Faculty award 9 times in eleven years. He also received an MBA Teaching Excellence Award.
He had over 25 years of experience in technology consulting prior to his academic career. He was a partner in three global consulting practices for Deloitte, EDS and Infosys Consulting as well as a leader in business systems with the Timken Company. His global experience consists of serving clients in twenty countries and being posted in London.
Dr. Gerth has a doctorate (D.B.A.) from Cranfield University (U.K.). His research centers on CIO leadership, particularly how CIOs make successful transitions and avoid derailment. He is one of the world's leading authorities on CIO transitions and IT leadership.
He has been a frequent speaker regarding CIO leadership and soft skills for technology professionals for organizations such as SIM, ISACA, IIA, APICS, Pink Elephant, Value Summit and Gartner. He is a member of SIM and Association of Information Systems (AIS). His research has been published in Communications of AIS, Proceedings of AMCIS, MIS Quarterly Executive, Business Horizons, and the Journal of Information Systems Management. He is author of "A Student Guide to IT Strategy Case Analysis" and "Taking the Reins as CIO: A Blueprint for Leadership Transitions". He previously served as the publisher of MIS Quarterly Executive.
Episode 5:
Summer Research Grant: IT in the nonprofit sector and the use of inter-organizational systems to address homelessness
Featuring Dr. Mary C. Jones
Dr. Mary C. Jones is a professor of information systems in the Information Technology and Decision Sciences Department in the G. Brint Ryan College of Business at the University of North Texas. She received her Ph.D. from the University of Oklahoma and served on the faculty at Mississippi State University before joining UNT in 2001. During her tenure at UNT she served 12 years as Department Chair and has served on numerous department and college committees. Her research appears in numerous leading journals including MIS Quarterly, European Journal of Information Systems, Behavioral Science, Decision Support Systems, System Dynamics Review, and Information and Management. Her research interests are primarily in the impact on organizations of large scale, organizational spanning information systems such as ERP or business intelligence systems. She teaches a variety of courses including Enterprise Applications of Business Intelligence, IT Project Management, and doctoral seminars in General Systems Theory and in research methods.
She is also an active community volunteer and currently serves on the board of directors for the Denton Affordable Housing Corporation which is a community housing development organization, and she is a member of the Denton County Homelessness Leadership Team. She also recently served a two year term as Chair of the Denton County Homeless Coalition.
Episode 6:
Job Searching
Featuring Dr. Brian Hirsch
Dr. Brian Hirsch is currently the Senior Associate Director for the UNT Career Center in the UNT Ryan College of Business. He is a proven leader in career services and higher education with over twenty years of experience in diverse roles. Establishing and growing career, cooperative education, and internship programs in multiple locations and a variety of different settings including major research institutions, liberal arts, and regional schools. Responsibilities have included expanding recruiter base and creating increased opportunities for placement, career advisement, oversight and coordination of on-campus recruitment, employer relations, job and program development, student retention, teaching, leadership development, and quality service, outcomes assessment, customer service, publications production, marketing, supervision, budget management, and advisement.
Dr. Hirsch has extensive involvement with student affairs including leadership development, Greek Life, Student Activities, Student Retention, and Drug Education and Prevention. His responsibilities have included managing staff, managing budgets, program planning and student development.
Episode 7:
Logistics & Supply Chain Management
Featuring Dr. Savoie
Dr. Savoie is a Clinical Professor in Operations, Logistics, and Supply Chain Management at the University of North Texas. He is also President and CEO of HyperGrowth Solutions, Inc., a company specializing in the integration of business and technology for competitive advantage.
Dr. Savoie has over 25 years of experience in Executive Management, Strategic Planning, Cybersecurity/Risk Management, Information Systems & Data Analytics, Engineering, Operations Management, Quality, and Training. He is an internationally recognized public speaker, serves as a consultant to numerous companies, and is a technology advisor to federal, state, and local governments.
Prior to starting HGS, Dr. Savoie was a co-founder and served as Chief Operating Officer of Integrated Resources Group, Inc., a nuclear power consulting government contractor focusing on strategic positioning, information technology and training. At IRG, Dr. Savoie performed work for a myriad of public and private enterprises and oversaw all in-house functions, including accounting, finance, legal, compliance, and human resources.
From July 2013 to December 2016, Dr. Savoie served as the Dean of the College of Technology & Computing at Utah Valley University. As Dean, he grew the college from 80 to 107 full-time faculty, student enrollment from 8,000 to over 11,000, majors from 3,600 to 4,400 and the budget from $18 million to roughly $23 million. In 2016 Dr. Savoie was named Academic Leader of the Year by the Utah Technology Council.
Dr. Savoie was appointed by Texas Governor Rick Perry to the Texas Guaranteed Student Loan Corporation Board of Directors in 2008 and reappointed in 2011. He stepped down in March 2013 when he accepted the job in Utah. While on the board, he served as Chair of the Budget, Finance and Audit (BFA) committee, overseeing roughly $30 billion in federal student loans, a $700 million loan portfolio, and an operating budget of $180 million per year.
Dr. Savoie served 4 terms as Mayor of the Town of Northlake as well as one term on the city council. He was a founding member of the Northwest Communities Partnership and served as its first Treasurer. Dr. Savoie also served on various boards and commissions in Texas including the Denton County Transportation Authority (DCTA), Upper Trinity Regional Water District Board of Directors, the Trinity River Authority Board of Advisors, various Mayor's councils and road coalitions. He was involved in economic development in Denton County, Texas, including Texas Motor Speedway and Robson Ranch. Dr. Savoie also co-authored the award-winning Northlake Strategic Master Plan.
Dr. Savoie is an award-winning teacher and the author of over 150 articles, chapters, and books on information technology, data security, electronic commerce, quality, operations management, and continuous improvement, among others. His current research and writings explore the role of information technology in organizational transformation. The second edition of his book Building Successful Information Systems: Five Best Practices to Ensure Organizational Effectiveness and Profitability was published by Business Expert Press in July 2016. In April 2015, he presented at TEDxUVU on Modularity and the Internet of Things (https://www.youtube.com/watch?v=gwEvN3fXPp0).
Dr. Savoie has a bachelor's degree in Mechanical Engineering, an MBA, and a Ph.D. in Operations Management with a Business Computer Information Systems support.
Episode 8:
Dr. Jeremy Short, G. Brint Ryan Chair in Entrepreneurship
Featuring Dr. Jeremy Short
Dr. Jeremy Short is the college's inaugural G. Brint Ryan Endowed Chair in Entrepreneurship at the University of North Texas, and he brings with him an extensive background in crowdfunding, content analysis, family business, and strategic management. His research has appeared in outlets such as the Academy of Management Journal, Strategic Management Journal, Strategic Entrepreneurship Journal, Journal of Business Venturing, Organization Science, and Family Business Review—to name a few.
Episode 9:
The (data) science behind COVID
Featuring Dr. Vess Johnson
Dr. Vess Johnson, assistant professor in the Information Technology and Decision Sciences Department, joins the podcast to discuss the latest trends and findings as they relate to COVID-19. Since the onset of the pandemic, Dr. Johnson has produced weekly reports that track the pandemic, both state-wide and across the world, by using a variety of datasets and sources.
Prior to joining UNT in the fall of 2020, Dr. Johnson was an associate professor of business information systems at the University of Arkansas at Little Rock. He received his PhD from the University of North Texas, an MS in computer science, a BA in philosophy and a BS in mathematics from Mississippi State University. Before returning to academia he served as the president and CEO of multiple companies in the semiconductor, software and energy sectors in a professional career spanning more than 20 years. His research focuses on the organizational impact of IT, IT trends, role of the CIO, and disruptive technology adoption. His work has appeared in journals including Information and Management, The European Journal of Information Systems, MISQ Executive, Communications of the ACM, Computers in Human Behavior, and The Journal of Computer Information Systems.
Episode 10:
Inside the Energy Industry
with Chad Thompson
Chad Thompson, General Manager HR of North America Exploration and Production for Chevron Corporation, and the college's Director of the Institute of Petroleum Accounting, Dr. Akhil Kumar, join Business Conversations to discuss the energy industry.
In his current role, Chad provides guidance and leadership in all areas of People Strategy and Talent Management to the OPCO president and leadership team and Business unit HR Managers. The team's vision is to ensure that Chevron has the right people with the right skills in the right places at the right time to deliver the Chevron Africa and Latin America Exploration and Production business plan.
Chad has 21 years of experience in HR with Chevron, joining the company in the Eastern Caribbean in 1998, and has worked in the Latin America Region from 1998-2006 in roles of increasing responsibility. In 2006 Chad worked in the Asia Pacific region as the HR Manager for South East Asia. In 2008 he moved to the position as Global HR Manager for Lubricants in Downstream and in 2010 assumed the position of Global HR Manager for Oronite until December 2014.
In January 2015 until April 2017 Chad was the Strategic OC Advisor in Indonesia where he supported the IBU transformation project and the divestment of the Geothermal Business in Indonesia and the Philippines. From April 2017 to April 2018 he served as the Talent Management Advisor for the HR Function responsible for developing Human Resource Professionals across the enterprise working with the EVP HR and the executive leadership team.
Prior to joining Chevron, Chad worked in Power Generation, Software Engineering and Business Process Outsourcing Industries.
His background includes in-depth experience in all areas of Human Resources across the life cycle of a company: rapid growth, consolidation, maturity, decline and ultimately divestment. Chad was born in the UK. He has lived and worked in Barbados, Miami, Singapore, California, Indonesia and now Houston. He has experience in the protocol of conducting business in Asia Pacific, Latin America, Europe, Africa and Middle Eastern cultures.
Chad has an MA in Organizational Management from Fielding Institute, Santa Barbara, California.
Episode 11:
Emerging Performance Metrics for Corporate Performance Environmental, Social and Governance (ESG)
Dr Akhil Kumar, Executive Director of Institute of Petroleum Accounting of University of North Texas talks to Coleman Rowland, Managing Director, BKD Enterprise Risk Solutions and Brian Matlock, Partner, BKD LLP.
Coleman Rowland serves as the national consulting leader for BKD National Energy & Natural Resources Practice. His client service experience includes leading large scale transformation initiatives and helping improve financial management processes in complex global business environments. He has more than 30 years of experience working with commercial clients operations and financial systems.
Brian Matlock serves as BKD's National Energy and Natural Resource Leader specializing in oil and gas private equity. Prior to joining BKD, Brian was a partner with KPMG serving as one of the firm's energy private equity fund leaders. Brian has extensive experience in auditing and accounting matters related to mineral extraction, power generation and energy companies.
Episode 12:
Financial Literacy: Getting more for your money
Dr. Mark Evers joins Business Conversations to discuss the importance of financial literacy and what it means for your future.
Dr. Evers is a native Texan from Round Rock, Texas and holds a Ph.D. and master's degree in Personal Financial Planning from Texas Tech University, and an MBA from West Texas A&M. He is a Certified Financial Planner and a Chartered Retirement Planning Counselor.
Dr. Evers comes to the university with over a decade of industry experience in financial services, along with over a decade of teaching experience. Prior to joining UNT, he was the Director of Financial Planning at Imperium Wealth Management in San Antonio, Texas. He has also worked for Strategic Financial Concepts, Charles Schwab, Weaver, Kading and Associates, and Janus Mutual Funds.
Dr. Evers has taught in the Personal Finance Program at Texas Tech University, and Business Education at Manor and Stony Point High Schools.
Episode 13:
Accounting Careers Panel: talking about the one degree with 360 degrees of opportunities
In this episode, we have four special guests talking with us about careers in accounting, including:
Tim Pike, CPA, CFE Managing Partner of Howard LLP, Julie Anderson, CPA, CFO of Texas Capital Bank Aaron Borden, CPA, Managing Director of Grant Thornton LLP Olivia Riley, CPA, Accounting Supervisor at CBRE.
This panel of leaders bring a wealth of experience in Audit, Tax, Banking and Governmental career paths to today's discussion.
Moderated by Madhuri Bandla, CPA, and Senior Lecturer of the Dept of Accounting at UNT and Dr. Ananth Seetharaman, CPA, and CGMA Don and Donna Millican endowed Chair of the UNT Dept of Accounting, this episode covers all you need to know about careers that are built from accounting-- the one degree with 360 degrees of opportunities.
LISTEN ON ANCHOR.FM