Podcast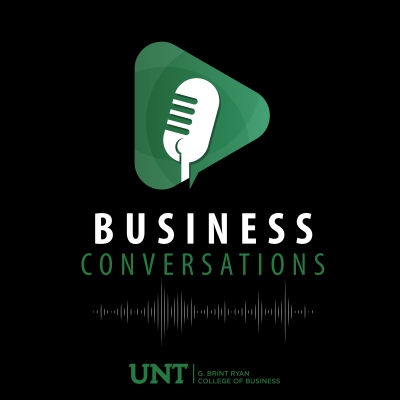 Business Conversations
by The UNT Ryan College of Business
Conversations brought to you by expert faculty of the University of North Texas G. Brint Ryan College of Business.
Episode1:
UNT Business Conversations: Taxes and COVID-19
Featuring Dr. Peggy Jimenez
Dr. Peggy Jimenez earned her Ph.D. in Accounting and M.S. in Taxation from UNT in 2013 and holds a B.S. in Accounting from Brigham Young University-Hawaii. Before pursuing graduate studies, she worked in the federal tax department of KPMG in Silicon Valley, California. Her work at KPMG included federal and state tax return preparation, calculation of the federal tax accounts for financial statements, and audit of tax accounts on corporate financial statements. Her teaching interests include financial accounting, managerial accounting, and taxation. Her research focuses on social issues that influence tax compliance decisions. Her research has been published in the Journal of Accounting and Public Policy and Advances in Accounting. Dr. Jimenez is a CPA licensed in the state of California. She enjoys traveling, spends most of her spare time with her husband and two young children, and enjoys finding opportunities to use her skills to serve others.
Episode2:
Cybersecurity in Today's Climate
Featuring Dr. Jose Lineros
Dr. Lineros currently teaches AIS, ERP, IT Audit, and Internal Audit at the University of North Texas. He previously taught MIS and computer science at UTD, TAMU-Commerce and Brookhaven. He holds a PhD in Higher Education: Educational Psychology, a Masters in Telecommunications from the University of Dallas, and a BBA in Accounting from the University of Texas at Arlington. His credentials include a CISA, CPA, CIA, CFE, CRISC, and is a Microsoft Certified Technology Specialist. He has published numerous articles in journals such as Community College Journal of Research and Practice, Learning and Performance Quarterly, the Journal of Social Media in Society, and the Global eLearning Journal. Additionally, he has frequently lectured on blockchain, mobile device security, Wi-Fi architecture vulnerabilities, and their business implications. He has contributed IT Audit expertise on an ERP textbook and is the Director of Academic Relations for ISACA (Information Systems and Control Association). He currently serves on the Boards of the North Texas ISACA and the Fort Worth IIA, as well as being recognized as the DFW IIA Professor of Internal Audit.
LISTEN ON ANCHOR.FM