The Doctor of Business Administration (DBA) is the newest degree offered by the G. Brint Ryan College of Business, University of North Texas. This degree is designed for executives and managers who wish to enhance their knowledge and expertise within a research-driven framework.
This hybrid program can be completed in three years while working full-time. Classes meet on weekends, four times each semester.
The DBA program opens diverse career options for executives and managers where graduates can:
Become thought leaders in their fields.
Advance in their current industry as consultants.
Lead new entrepreneurial ventures.
Join academia as business school faculty.
Use advanced research skills to analyze business problems within their current positions.
The DBA program at University of North Texas has been meticulously designed to provide experienced professionals with a unique platform for advancing your business skills, expanding your intellectual horizons, and making a lasting impact on the world of business. Over the course of the program, students will have the opportunity to engage with our distinguished faculty, collaborate with fellow accomplished professionals, and immerse themselves in cutting-edge research. Our dedicated team provide individual support at every step of the DBA journey. From academic advisors, who will guide course selections, to experienced mentors, who will share their industry and research insights, we are committed to fostering an environment that promotes students' personal and professional growth.
- Director of Professional Graduate Programs and Associate Professor of Management
Dr. Virginie Kidwell
About the program
The DBA degree at UNT is a practitioner-oriented program, anchored in industry-focused research problems.
Students leverage business experience to enhance understanding of theoretical concepts, while developing new knowledge through scholarly research on topics anchored in business practice.
The program consists of 48 credit hours that can be completed in three years. Click here to see the current program schedule and courses/seminars.
Small classes led by expert instructors will meet in person on four weekends each semester, enhanced by online activities and enrichment.
The program is designed to allow students the flexibility to work while earning a doctorate.
The program is offered at Frisco Landing, a state of the art facility at UNT's Frisco campus.
Students start in the Fall term every year and progress through the program in a cohort format (i.e. all students starting in a particular Fall term will take all classes together as they move through the program).
4
weekends
in-person
meetings/
semester
Why the UNT DBA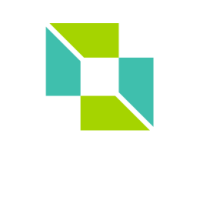 The G. Brint Ryan College of Business at UNT provides an AACSB-accredited degree within a Carnegie Tier-1 research institution.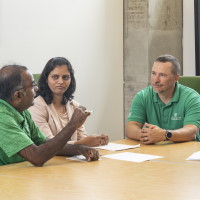 Our award-winning faculty have deep knowledge and expertise in business disciplines informed by extensive research, and significant and relevant industry experience.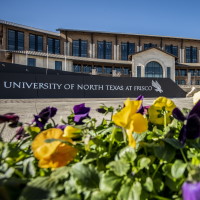 The program is hosted at UNT's newest state-of-the-art facility in Frisco, Texas—perfectly situated to allow academia and industry to connect on new levels.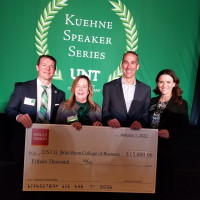 Surrounded by dozens of corporate headquarters within the country's fourth-largest metropolitan area, the DBA builds on UNT's strong and influential corporate partnerships for added value and opportunities.
Doctor of Business Administration at a Glance
Accreditation
All business degree programs offered through the G. Brint Ryan College of Business are accredited by AACSB within a Carnegie Tier-1 research institution.
Costs
Program costs for classes are competitively prices at approximately $114,000 (The total cost per Semester Credit Hour (SCH) is approximately $2,375) for the three-year program. In addition to the estimated tuition and fees students will be charged a $1,750 per SCH program fee. Costs include tuition, books, and meals on class days. Visit: sfs.unt.edu for Financial Aid information.
Program Method of Delivery
The DBA is designed for working professionals. The in-person component learning will take place 4 weekends a semester, and the rest of the learning takes place online where faculty and students can interact between weekend classes.
FEATURED PROGRAM FACULTY
DR. TONY GERTH
CLINICAL PROFESSOR
Dr. Tony Gerth is a Clinical Professor with the G. Brint Ryan College of Business, teaching information systems management courses. He is also Principal of ABG Executive Advisors, LLC, a CIO leadership coaching and education firm. Previously, he taught at the Indiana University Kelley School of Business where he was awarded the MSIS Outstanding Faculty award 9 times in eleven years. He also received an MBA Teaching Excellence Award.
Gerth had over 25 years of experience in technology consulting prior to his academic career. He was a partner in three global consulting practices for Deloitte, EDS and Infosys Consulting, as well as a leader in business systems with the Timken Company. His global experience consists of serving clients in twenty countries and being posted in London.
DR. AUDHESH PASWAN

Dr. Audhesh Paswan received his Ph.D. from the University of Mississippi, USA, an MBA from the Indian Institute of Management, Ahmedabad, and a B.Tech. (Aeronautics) from the Indian Institute of Technology, Madras. Before coming into academia, he worked in the advertising and consumer product industry as the Account Manager and Planner, and Brand Manager. Dr. Paswan has recently been named Vice Provost and Dean of UNT at Frisco and will continue to serve as Professor of Marketing in the College of Business.
DR. MAJED YAGHI
Dr. Majed Yaghi joined the University of North Texas in September 2021 and is currently a Marketing lecturer at the G. Brint Ryan College of Business. Prior to joining UNT, Dr. Yaghi spent 23 years at The Coca-Cola Company retiring as Vice President-Global Accounts based in Dallas, TX and led a group of the company's chain customers across 85 countries. His track record with CPG blue chips also includes sales and marketing senior roles with Kimberly-Clark and Gillette.
Dr. Yaghi holds a Doctor of Business Administration degree from The University of Bradford, UK and a master's in marketing from Louisiana State University. His doctoral dissertation (The Influence of Toxic Leadership on Employee Commitment and Mediating Role of Organizational Culture) was awarded the Dean's Prize for Innovation and Impact in Doctoral Research. His first book (Leadership Lessons from an Illiterate Mom) is due to be published in January 2022 and he is currently writing his second leadership book titled "The Toxic Trigon."
DR. DEXTER PURNELL
Dr. Dexter Purnell is a faculty member in the marketing department at G. Brint Ryan College of Business. The 2x Billboard #1 recording engineer/producer is also an entrepreneur with significant experience in the entertainment industry. He has worked with recording artists and record labels such as Sony, Disturbing Tha Peace Records, Def Jam Records, Jaquees, Chrisette Michele, Raheem DeVaughn, David Banner, Rudy Currence, Christina Bell, Slim of 112, Nate Walka, Field Mob, O-Town, Loverboy, Jean Rodriguez, Captain Hollywood, and many others. Dr. Purnell has also managed to add some very impressive corporate clientele such as Footprint Features (When We First Met, Shimmer Lake, Family Weekend), Walt Disney Entertainment, NBA, ESPN, Jansport, Gearhead Pictures/Dan Myrick (Blair Witch Project, The Strand) and Hard Rock Academy to his ever-growing résumé.
Dr. Purnell holds a doctoral degree in business administration from Wilmington University, a master's degree in marketing from the University of Alabama, and has extensive experience teaching both face-to-face and online courses. He has held faculty positions at West Georgia Technical College, MacMurray College, and Elizabeth City State University. Dr. Purnell enjoys conducting academic research on various topics in the areas of entrepreneurship, entertainment, and consumer behavior.
ROBERTO CAVAZOS
Dr. Roberto Cavazos is Clinical Associate Professor of Information Technology and Decision Science at the University of North Texas. He has been on the faculty of Florida International University, Carnegie Mellon University, University of Baltimore Merrick School of Business where he taught graduate level economics and statistics. His research on fraud has received global attention and been cited in The Wall Street Journal, Forbes, CNBC, The Times of London, CBS among many others. He has written and published peer reviewed articles, government reports, and two books. His research has been cited by the Federal Trade Commission in Congressional Reports. In addition, outside of academia, he has a career as consultant and expert for Federal Government Agencies, law firms, NGO's and Fortune 500 Companies. Dr. Cavazos holds a BA, MPA and PhD from the University of Texas.
DR. ARUNACHALAM (CHALAM) NARAYANAN
Dr. Arunachalam (Chalam) Narayanan is an Associate Professor of Analytics in the department of Information Technology and Decision Sciences. He earned a Ph.D. in Operations Management and MS in Industrial Engineering from Texas A&M University. He also earned a BE in Mechanical Engineering from College of Engineering, Guindy in India. Prior to his appointment at University of North Texas, he was a faculty member in the Industrial Distribution Program in College of Engineering at Texas A&M University (tenured in 2012) and a faculty member in the Bauer College of Business at University of Houston. He has consulted with several firms including Schlumberger, Gulf States Toyota, Lyondell Basell, Lufkin, Brenntag, Wilson (now NOV), HEB, Baker Hughes and non-profits like Salvation Army and Capital Area Food Bank. His dissertation was recognized by DSI and CSCMP in 2007 and has published in journals including POMS, JOM, DSJ, EJOR, Omega, IJPE, IJPR among others. He has also created of a popular version of online beer game, which will soon be available in the UNT servers.
DR. GURPREET DHILLON
Dr. Gurpreet Dhillon is the G. Brint Ryan Endowed Chair of Artificial Intelligence and Cybersecurity. He graduated with a Ph.D. from the London School of Economics (UK). In 2019 he received an Honorary Doctorate from Örebro University (Sweden). Gurpreet has published nearly 100 peer-reviewed journal articles in some of the top-tier outlets, including FT50 journals. Gurpreet is also an author of over a dozen books, all related to information technology and cybersecurity. His research and teaching interests lie in the interface between technology and organizations. In particular, his focus has been on managing information security in organizations and ensuring the integrity of business operations. Gurpreet has advised over two dozen doctoral students. His expert comments have appeared in the New York Times, USA Today, Business Week, CNN, NBC News, NPR, TEDx, among others.
Mailing Address (P.O. Box)
University of North Texas
G. Brint Ryan College of Business
DBA Program
1155 Union Circle #311160
Denton, Texas 76203-5017 USA
Physical Address (Street)
G. Brint Ryan College of Business
Business Leadership Building, Room 201
1307 West Highland Street
Denton, Texas 76201 USA
Email Address
DBACOBA@unt.edu