MBA
Music Business
Hands-on learning and industry
experience with our unique combination
of business and music courses
Announcing the MBA in Music Business, a collaborative degree between UNT's G. Brint Ryan College of Business and the internationally ranked UNT College of Music.Welcoming students from all musical backgrounds
including classical, jazz, & commercial music
The College of Music and the G. Brint Ryan College of Business at the University of North Texas come together for the brand new MBA in Music Business.
This cutting edge program combines top-quality business administration curriculum with hands-on learning in music classes geared towards entrepreneurship and business tools for the 21st century musician. Built upon the foundation of the Music Business & Entrepreneurship program, ranked by Billboard as a Top Music Business School for the fourth year in a row, this MBA features curriculum on management, marketing, finance, media, and more for direct application to the music industry.
The MBA in Music Business welcomes students from all musical backgrounds including classical, jazz, and commercial music.
MBA in Music Business Informational Presentation
MBA in Music Business Webinar Recording
APPLY NOW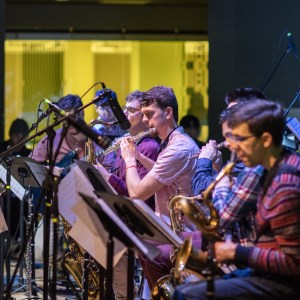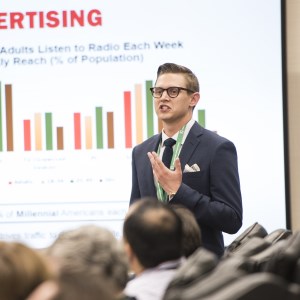 Degree Requirements
MBA Music Business
Total Credits: 36
ACCT 5130 (3) | Accounting for Management
DSCI 5180 (3) | Intro to the Business Decision Process
FINA 5170 (3) | Financial Management
MKTG 5150 (3) | Marketing Management*


*May substitute: MUCE 5010 (3) | Marketing for Musicians

MGMT 5140 (3) | Organizational Behavior and Analysis
BCIS 5150 (3) | Leveraging Information Technology for Business
MGMT 5710 (3) | Seminar in Business Ethics and Social Responsibility
BUSI 5190 (3) | Administrative Strategy
MUCE 5000 (3) | Music Business and Entrepreneurship
MUCE 5030 (3) | Music Entrepreneurship Practicum/Internship
MUCE 5040 (3) | Music Law and Finance
MUCE 5050 (3) | Artist Management and Touring
MUCE 5020 (3) | Music Leadership and Performing Arts Management
MUCE 5060 (3) | Beginning Digital Audio Production for Music Entrepreneurs
MUCE 5070 (3) | Business of Music in Media
MGMT 5300 (3) | Entrepreneurship and Venture Management
Applicants without a music degree will be required to demonstrate their involvement and understanding of music and the music industry with examples of their portfolio including recordings, videos, websites, social media, etc. via their resume, cover letter, essay, and other supporting materials upon application to the program. Materials will demonstrate breadth and depth of musical proficiency and preparation.
MBA Applications should include the following:
A personal statement (300-500 words) describing the student's musical experience, career goals, interests, and reasons for interest in the MBA in Music Business.
The student's contact information.
A portfolio, website, videos, or other documentation demonstrating evidence of musical activity and experience.
Featured Faculty
Debbie Brooks
---
Interim Director
Music Business and Entrepreneurship
Visiting Lecturer
debbie.brooks@unt.edu
(940) 369-8395
Music Building | 144