Master of Science
in Finance
The Master of Science in Finance at UNT is a market-driven and value-added program from a top-tier research public university that can be completed in 12 months (Fall start). This program provides the necessary tools for data-driven decision-making by providing advanced knowledge of finance and modeling/data skills valued in industry. Students will learn practical applications of finance concepts through management and analysis of large real-world financial datasets, Excel-based financial modeling, and experiential learning opportunities.
APPLY NOW
Domestic students can be admitted until the week before classes start, but are encouraged to apply early. International students are strongly encouraged to apply early due to visa and I-20 processing. For fall admissions, an international student should apply no later than June 1.
UNT undergraduate students in Finance can apply to be admitted into this BBA-MS Finance Grad Track Pathway program in their junior or senior year, and take up to 6 credit hours of graduate level courses (from FINA 5310, FINA 5400, FINA 5500). The graduate level courses would fulfill corresponding BBA Finance requirements (FINA 4310, FINA 4400, FINA 4500, respectively) and will also apply towards their MS Finance.
Program Highlights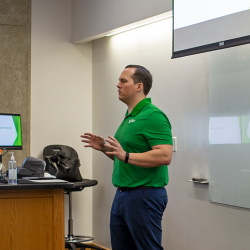 Competitively priced high-value program from a top-tier university that provides advanced finance knowledge and in-demand modeling and data skills, foundations for fast-track careers in finance.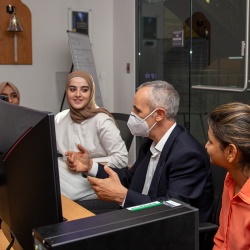 Exposure to practical applications incorporating real-world financial data in course work, guest lectures/speakers, a student-managed investment fund, and live company projects.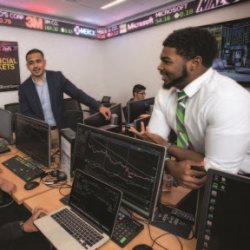 Preparation for obtaining the Chartered Financial Analyst (CFA) designation, one of the highest distinctions in the investment management profession.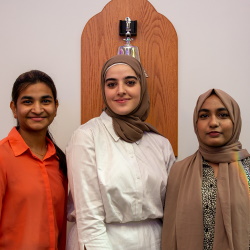 STEM-designated program which allows international students to work in the United States for 36 months after graduation, without being sponsored for a work visa by an employer, making it easier to obtain work experience in the United States.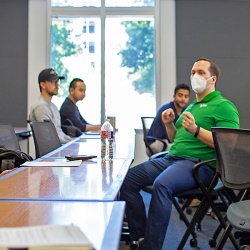 The Ryan College of Business is among the one percent of business colleges and schools worldwide which hold dual accreditation in business and accounting by the Association to Advance Collegiate Schools of Business (AACSB), the premier accrediting body for business and management education.
Datasets/Platforms Used
CRSP (stock returns), Compustat (financial statement information)
Bloomberg Trading Room
MSCI ESG metrics (corporate and funds)
S&P Global Market Intelligence (Banking, Insurance and Real Estate modules)
Activist Insight (information on shareholder activism)
BoardEx (information on board members and senior executives)
Thomson Reuters SDC M&A and Security Issuance Database (historical data on mergers, debt, and equity issuances)
Refinitiv Analyst Forecast Data
Morningstar Direct (mutual funds performance and holdings)
Eventus (event study)
Program Snapshot
Credits needed to complete program: 30 (10 courses)
Core credits: 18 (6 courses)
Elective credits: 12 (4 courses)
Full-time option: 12-months with a fall semester start

Graduation Requirements: A minimum of 30 credit hours of MS Finance program coursework (excluding prerequisites) with a cumulative GPA of at least 3.00.

Application Requirements
Applicants should have completed their undergraduate degrees with at least a 3.0 GPA (or equivalent) from accredited/ranked institutions. For Fall 2021, Spring 2022, and Summer 2022 applicants, due to the Covid-19 Crisis and the impact on testing sites, we will waive the GMAT/GRE testing requirement for applicants with a cumulative or last-60-hour GPA of 3.0 from a regionally accredited (or the equivalent) institution.
Degree Requirements
MS Finance
Financial Management | FINA 5170
Investment Analysis and Management | FINA 5210
Advanced Topics in Financial Management | FINA 5310
Financial Markets and Institutions | FINA 5400
International Financial Management | FINA 5500
Integrative Capstone Course | FINA 5700

The Capstone course is a required culminating experience. This requirement can be fulfilled in multiple ways. A recommended option is application of knowledge obtained from the MS Finance coursework to a project involving data analysis using financial datasets.

The Capstone project is typically a group project (approved by the MS Finance Program Advisor) of 3 or 4 students working on a live company project or research project identified by faculty or students.
Theory and Application of Financial Derivatives |
FINA 5220
Fixed Income Securities |
FINA 5240
Mergers and Acquisitions |
FINA 5340
Sustainable Finance |
FINA 5330
Theory of Finance |
FINA 5510
Contemporary Issues in Finance |
FINA 5650
Finance Internship |
FINA 5800
Up to two courses from DSCI 5210, DSCI 5240 and other 5000-level courses from the Ryan College of Business or ECON, subject to MS Finance Program Advisor approval. For course descriptions visit http://catalog.unt.edu.
The number of electives offered each year will depend on enrollment.
Career Opportunities
Graduates with MS Finance degrees, often work in various analyst roles in investment management, investment banking, commercial banking, corporate finance, financial advising, insurance and regulatory positions. The FIREL department at UNT RCOB engages with reputable prospective employers (e.g., TD Ameritrade, Fidelity, Bank of America, JPMorgan Chase, Wells Fargo, Goldman Sachs, Schwab, Regions Bank, Texas Capital Bank, Capital One, Citi, Dallas Federal Reserve, etc.) to facilitate internship and placement opportunities for students. The RCOB Career Resource Center actively engages with students regarding job-related activities through various events including career fairs and employer information sessions. The UNT Office of International Student and Scholar Services provides advising to international students seeking employment opportunities. Based on reported data from U.S. MS Finance programs, salaries of graduates obtaining employment in the U.S. often exceed $65,000 per year on average.
Scholarships
Click here for scholarship information/applications
Scholarship applications can be submitted starting the end of December until early March of each year, but early applications are recommended.
Merit-based scholarship and assistantships
Three to four 20-hour per week Assistantships are awarded each year. Assistantships pay $12 per hour and qualify the recipient for the in-state tuition rate.
Four to five $1,000 merit-based scholarships are awarded each year. Criteria for these awards typically include GMAT/GRE scores, GPA, accreditation of recent graduating institution, and reference letters. This award qualifies the recipient for the in-state tuition rate.
Scholarship applications are due
March 1st
, but early applications are recommended; contact Kathy Nichols at
Kathy.Nichols@unt.edu
.
Connect with us
Dr. John Puthenpurackal
---
Department Chair
Finance, Insurance, Real Estate & Law
Professor
Finance
John.Puthenpurackal@unt.edu
(940) 565-3063
BLB | 212A
Dr. Takeshi Nishikawa
---
MS Finance Program Advisor
Finance, Insurance, Real Estate & Law
Associate Professor
Finance
Takeshi.Nishikawa@unt.edu
(940) 565-2511
BLB | 336B
Natalie Bernard
---
Director of Admissions and Academic Advising
Graduate Programs
Advisor for MS & MBA in Finance
Graduate Programs
Natalie.Bernard@unt.edu
(940) 369-7818
BLB | 201G