Tom Harris
Senior Vice President of Operations at Hillwood AllianceTexas
Friday, March 11th -

10:00am

to

11:30am
Golden Eagle Suite in the University Union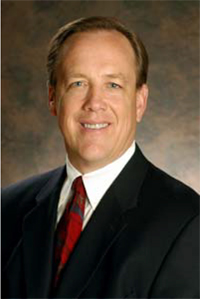 Tom Harris has been an integral team member in the development of AllianceTexas. With over 30 years of management and leadership experience, Harris has developed a keen eye for understanding and meeting the customers' needs. He focuses on creating relationships that improve processes and efficiency for the companies located at AllianceTexas.
Harris played a key role in the development of Fort Worth Alliance Airport, the world's first industrial airport. As a lead member of Hillwood's Alliance Aviation Services team, he worked to establish and grow the airport's Fixed Base Operator and management companies into world class operations.
Harris currently directs Hillwood Properties' Operations and Administration for the AllianceTexas development, including property management, land management, aerospace and aviation business development, project management, community relations, office administration, security, special events and owners association activities. Harris also directs oversight of the Alliance Global Logistics Hub. This unique offering of multiple transportation options at a single master-planned facility is truly world-class and one-of-a-kind.
Before joining Hillwood, Harris served as manager of operations and maintenance for the City of Austin Aviation Department. He additionally worked at airports in Boston, Dallas/Fort Worth and Austin in various management positions for LSG/SkyChefs airline catering activities for several major airlines.
Harris serves on the statewide Industry Advisory Board of the Texas Manufacturing Assistance Center and is a member of the American Association of Airport Executives. He is past Chairman of the Fort Worth Chamber of Commerce North Area Council Board of Directors and a graduate of Leadership Fort Worth. Harris currently serves on the Tarrant County College Aviation Program Business Advisory Board, the University of North Texas Department of Marketing and Logistics Advisory Board, and the Speedway Children's Charities Board. In addition he is a member of the Birdville ISD Education Foundation Board of Directors and the Fort Worth Catholic Charities Board of Directors.
Harris is past Chairman of the First Candle/SIDS Alliance Board of Directors, a national nonprofit organization formed to increase community awareness and raise research funds for a cure or prevention of SIDS, stillbirth and other infant loss. He also is founder of the North Texas First Candle SIDS affiliate.
Harris is a 1977 graduate of the University of Massachusetts in Amherst and 2008 graduate of the University of Pennsylvania's Wharton School of Business Executive Development Program.
Tickets are not required and reserved seating is not available. For more information contact: Shannon Jauregui, Director of External Relations, at Shannon.Jauregui@unt.edu or 940-565-4333.