Mr. Steven James
President Manhattan Brokerage Division Douglas Elliman
Friday, April 12th -

10:00am

to

11:30am
BLB 170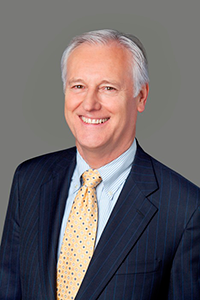 With more than three decades of residential sales experience, Steven James is a consummate and well-respected real estate professional. As President of DE's Manhattan Brokerage and Director of Sales for Douglas Elliman's East Side office (ranked #1 office in the U.S. for ten years), Steven capably advises brokers and oversees all aspects of their deals as well as working with the management team at DE Manhattan offices. His dedication to making the transaction process a smooth one indirectly yet enormously affects the lives of buyers and sellers alike.
Steven joined DE in 1990. His outstanding reputation has earned him great respect in the real estate industry. He has not only served terms on the Board of the Real Estate Board of New York (REBNY), but also on the Ethics Committee, Deal of the Year Dinner-Dance Committee, among others. In 1998, his great achievements were recognized with the Henry Forrester Memorial Award, the highest honor awarded to a residential broker.
Originally from Texas, Steven's passion for people and architecture made him a natural when it came to appreciating the value of real estate. After studying at North Texas University and the University of Hawaii, he moved to New York to pursue acting at the American Academy of Dramatic Arts.
By 1979, he embraced real estate full-time as a sales representative, applying his well-developed concentration and listening skills to benefit his clientele. He sold his first house to his very first customer, and the rest was history. Soon after, he carved an impressive record of selling no less than three apartments a month. Steven has a particular knack for reading between the lines to determine what people are looking for. As President, he works diligently to enhance the efforts of brokers who rely on his expertise. Steven also shared his knowledge with his peers over the years presenting guest lectures at NYU, Columbia Business School and REBNY.