Drew Lawton
Chief Executive Officer of New York Life Investment Management LLC
Friday, February 28th -

10:00am

to

11:30am
BLB 155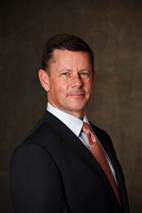 Drew Lawton is Chief Executive Officer (CEO) of New York Life Investment Management LLC (NYLIM) overseeing the company's global asset management businesses including Institutional Investments, MainStay Mutual Funds, Strategic Asset and Allocation Solutions, and Retirement Plan Services (RPS). These businesses represent over $210 billion in assets under management as of December 31, 2013.
Mr. Lawton joined the company in 2010 with a deep and diversified background in several key industry areas. Prior to his current role, he was the Head of the former Retirement Solutions business within the New York Life Investments Group and had oversight for RPS, Guaranteed Products, Retail Annuities' product and service organizations, and third party distribution for mutual fund and annuity products. Previously, he oversaw New York Life's equity- and fixed income-focused investment boutiques.
Mr. Lawton has over 30 years of industry experience including 11 years with Fidelity Investments in Boston, where he served initially as Senior Vice President at Fidelity's Retirement Services Company and later as Executive Vice President of DB Solutions for the Fidelity Employer Services and then President and CEO of Fidelity Management Trust Company. In 2005, he was instrumental in the formation of Pyramis Global Advisors Trust Company, Fidelity's institutional asset management firm, where he also served as President and CEO. Prior to his tenure with Fidelity, Mr. Lawton spent 16 years with Aetna serving in a variety of positions, most recently as Chief Marketing Officer for Aeltus Investment Management, responsible for defined benefit and defined contribution distribution, marketing, and client service of investment products.
Mr. Lawton currently serves on the National Board of Directors of the Make-A-Wish Foundation of America.
Education
Mr. Lawton received a BA from Yale University and his MBA in Finance from the University of North Texas.