Jane Gilday, CFA
Managing Director of investment management firm Barrow, Hanley, Mewhinney & Strauss, LLC of Dallas
Friday, November 21st -

10:00am

to

11:30am
BLB 170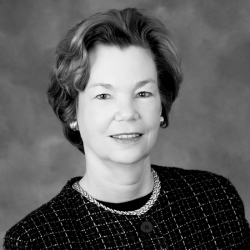 After graduating cum laude with a BA in Economics from Smith College, in 1968, Ms. Gilday went straight to Wall Street and began her career as a securities analyst with Argus Research. She then worked for several NYC firms including Spencer Trask and First Boston. She was ranked in all those years on the Institutional Investor All American Research Team. In 1991 she moved to Boston and worked as a research analyst at both Tucker Anthony and Advest.
In 1968 she joined Barrow Hanley in Dallas as a research analyst. Subsequently she took on portfolio management responsibilities and was made a partner in 2001.
Ms. Gilday is a member of CERT (the Chief Executives Roundtable), which is an support group devoted to UNT. She is also a member of the UNT Foundation Board and a member of the UNT Foundation Investment Committee.
She also serves on the Board of the Washington & Lee University Williams School and serves on the board of Tex Protects, an NGO which advocates for abused children in Texas. Previous Board memberships include Boys & Girls Clubs of America and the Madison Square Boys & Girls Club.
She is an avid horsewoman and plays "at" the game of golf averaging scores of over 100. Only once in her life has she broken 100.