Rich Gius
Chief Information Officer, Atmos Energy Corporation
Friday, March 24th -

10:00am

to

11:30am
UNT Union, Room 385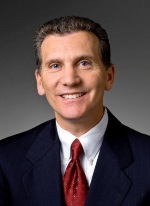 Rich earned a bachelor's degree in computer science from Northern Illinois University and a M.B.A. from the University of Chicago.
Rich joined Atmos Energy Corporation in October of 2007 as CIO. He is responsible for leading Atmos' enterprise-wide information technology strategy, architecture, project delivery and operations execution, focusing on the company's vision to be the safest provider of natural gas services as well as being recognized for exceptional customer service, being a great employer and for achieving superior financial results.
Atmos Energy Corporation, headquartered in Dallas, is the country's largest natural-gas-only distributor, serving over three million natural gas distribution customers in over 1,400 communities in eight states from the Blue Ridge Mountains in the East to the Rocky Mountains in the West. Atmos Energy also manages company-owned natural gas pipeline and storage assets, including one of the largest intrastate natural gas pipeline systems in Texas.
Before joining Atmos Energy Corporation in 2007, Rich spent 25 years working in the healthcare industry at Cardinal Health, Allegiance Healthcare, and Baxter International.
Rich is a member of the American Gas Association's Technology Advisory Council, Southern Gas Association's IT Committee, Samsung's Executive Advisory Board and AT&T's Energy Advisory Council. He also sits on the advisory board of University of North Texas' College of Business' Information Technology & Decision Sciences and is a member of the University of Oklahoma's Center for Management Information Systems Studies (CMISS).