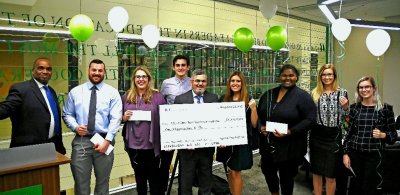 The Insurance Council of Texas (ICT) Education Foundation celebrated more than one million dollars in scholarship and educational support with the UNT College of Business on Wednesday, November 15.
With board members from both ICT and ICT Education Foundation present, $10,000 in scholarships were given out to seven deserving UNT insurance and risk management students; including Laura Babcock, Anthony Barnett, Madison Harnist, Maranda Johnson, Erika Miller, Kaitlyn Mustico and Landon Wolf. This donation brought the Education Foundation's total lifetime financial generosity up to $1,002,275.
"We are beyond grateful for the past 15 years of support from the ICT Education Foundation and the endless work they do to ensure the success of the insurance industry," said Department Chair Dr. Marcia Staff.
In 2002, the Insurance Council of Texas began providing support to colleges and universities in Texas to help develop talent for the insurance industry. The University of North Texas was among the first three schools to be awarded.
Since inception, ICT has impacted 478 students at 12 Texas Universities, with UNT being amongst its greatest benefactors. In addition to UNT, schools currently supported by the foundation include: Baylor University, Huston-Tillotson University, Texas Southern University, the University of Houston, St. Mary's University, the University of Houston - Downtown, the University of Texas at Dallas, the University of Texas Rio Grande Valley and the University of Texas at San Antonio.
Funds for the scholarship program come from donations and ICT Property and Casualty Symposium sponsorships by insurance companies, agencies and individual insurance professionals.
In addition, the Foundation provides grants to schools for much needed program support. ICT Education Foundation was also a key donor to the Taylor Chair in Insurance (currently the Taylor Professorship in Insurance, held by Dr. Yu-Luen Ma), which was announced this fall.