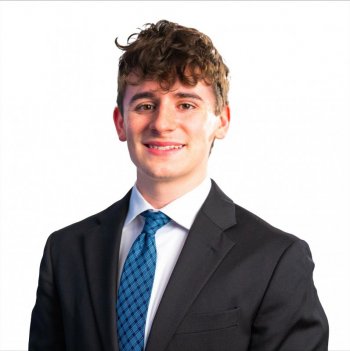 ​​​​​​​The Texas Business Hall of Fame (TBHF) inducted Charles (Grant) Goodrich into their 2022 Class of Scholar & Veteran Future Texas Business Legends.

Goodrich, a UNT media arts major with a minor in marketing, received the Future Texas Business Legend Award as part of this distinguished honor—joining the rank of nearly 800 other TBHF awardees from past years.

Although Goodrich isn't expected to graduate until Fall 2022, that hasn't stopped him from kicking off his career early. His sole proprietorship, Goodrich Productions, curates multi-media content for organizations throughout DFW--with more than 40 productions already on his resume.

While his abilities as a savvy businessman likely gave him a leg up on the competition, Goodrich mostly attributes earning the TBHF award to a bit of hard work and determination.

"I applied last year as well and worked hard on my application, but was unfortunately not accepted for the award. But I did not want to give up. I contacted the directors of the Texas Business Hall of Fame and asked them how I could improve my application. I stayed in close contact with members of the Texas Business Hall of Fame to make sure I could prepare my application to be the very best it could be. Through tenacity and grit, I was able to look past the failure of last year and work to better myself and keep fighting for my dreams and aspirations," explained Goodrich.

One of the educators that Goodrich recounts as an influencer of his academic success is UNT Professor Anat Barnir.

"I want to give a big thanks to Dr. Anat Barnir... Dr. Barnir helped me throughout the entire application process and answered all the questions I had about the application. She has done so much to help RCOB students, like myself, to take advantage of all the amazing opportunities for college students out there."
TBHF awardees will celebrate together in November, during the annual Scholar & Veteran Luncheon in Houston.