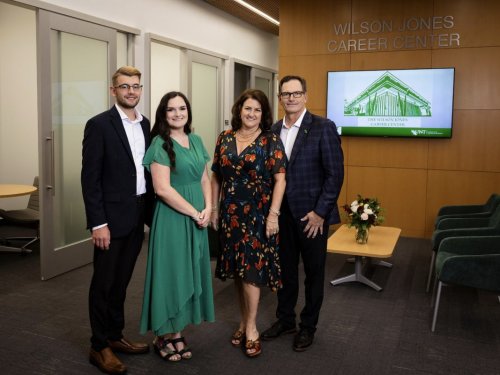 DENTON (UNT), Texas — Addressing attendees at the Sept. 29 dedication of the career center that bears his name, Wilson Jones ('85) recalled how decades ago he nearly dropped out of school.
From behind a podium stationed outside The Wilson Jones Career Center, newly opened in the Business Leadership Building at UNT's G. Brint Ryan College of Business, the retired president and CEO of Oshkosh Corporation, a manufacturer of military and other tactical vehicles, recounted his struggles as a first-generation student.
The Denton native worked multiple jobs throughout college, including one at a local tire store. After he "bombed" his midterm exams, Jones said he decided to withdraw from classes.
"We all have those intersections in life, and we hope we make more good decisions at those intersections than bad decisions," he said.
Jones prepared to tell professor Charles "Chuck" Bimmerle about his intention to depart from UNT. "He took an interest in me. He knew where I worked. He actually asked me about tires for his vehicle. … I felt like I owed it to him to tell him."
But before he could deliver the news, Bimmerle offered Jones some words of encouragement.
"He said, `I just want to tell you … I don't think you understand the potential you have,'" Jones recalled. "I was ready to give up and he said some other nice things to me and then I was thinking, `How am I going to tell him I'm quitting school now?'"
Instead, Jones went home and looked at himself in the mirror. "I said, `You know, you may not believe in yourself, but you have someone who does and he's smarter than you, he has more experience. I'm going to listen to him.'"
Jones continued his studies and earned a bachelor's in Business Administration. Over the years, he reconnected with Bimmerle, who died in April 2023.
Bimmerle's daughters — Stephanie Laubacher and Valerie Price — attended the Wilson Jones Career Center dedication.
Jones went on to a successful career that included being named one of the top CEOs of 2018. Three years later, he was honored with the UNT Distinguished Alumni Award and inducted into the G. Brint Ryan College of Business Hall of Fame.
He and his wife, Jane Jones, are strong supporters of student success at UNT, having previously created the merit-based Wilson and Jane Jones Endowment Scholarship and the Wilson and Jane Jones Extra Mile Scholarship, which is awarded to students who work at least part time to support their education expenses.
In 2022, the couple presented the G. Brint Ryan College of Business a $5 million gift – the second-largest donation in its history – to create The Wilson Jones Career Center, which provides guided career preparation for the college's 9,500 business students. Services available through the center include career exploration, resume development and critiques, workshops, mock interviews and assistance identifying internship opportunities.
"We talked about it a lot, Jane and I, and looked at how blessed we were. … We were fortunate and really lucky in some cases to have the connections we had in business," Wilson said of the inspiration behind the center. "Things that we weren't able to do or have as first-generation students are in this center."
UNT President Neal Smatresk and Dr. Marilyn Wiley, dean of the G. Brint Ryan College of Business, joined the Joneses for a ribbon cutting ceremony during the dedication.
Smatresk described Wilson Jones as "a testament to what hard work, a kind heart and a generous spirit can accomplish."
He said the career center will be "an epicenter of success for our students" – especially first-generation students – "who often come here with little understanding of job-market opportunities and no defined career path. Our career coaches in this center can change that and help them access great careers."
The G. Brint Ryan College of Business has been "a leader in making sure that students are prepared for the real world," he said. "With this as a model, we hope to inspire our campus with the career and professional development programs that we launch."
Wiley said The Wilson Jones Career Center will "transform the futures of UNT business students," noting that it already has tripled the number of career support staff that were available to them as recently as two years ago. "This center will equip students with the tools they need to make their mark in the ever-evolving business landscape.
"More than any other students in the university, business students come to college with the idea of a career," Wiley said. "It is our goal to prepare them to be as successful as their dreams will take them forward. This is a major step in helping us do that."
UNT News Service
News_Service@unt.edu
(940) 565-2108